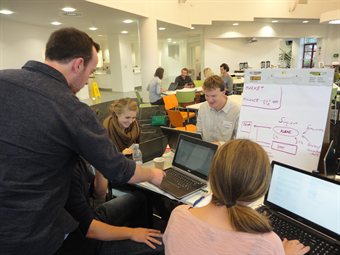 YES will be taking place this autumn. T
here are themed workshops covering the full spectrum of academic disciplines, including the arts and humanities.
YES is designed to develop business awareness and an understanding of entrepreneurship in UK postgraduate students and postdoctoral researchers. This goal is achieved through a competition in which those participating prepare a business plan for a hypothetical company.
The YES competition is run over three days. In the morning of the first two days participants, in teams of three, four or five members, attend presentations from leading figures in industry on all aspects of knowledge exchange and the commercialisation of ideas.
Topics covered include:
the requirements of a business plan;
intellectual property and patenting strategy;
raising and managing finance;
commercial and marketing strategies;
regulatory affairs; and
company case histories.
This knowledge, and any gained prior to the YES workshop, provides a basis for participants to prepare an oral business plan for a company based on a hypothetical but plausible idea, based on real markets and financial data.
One team selected from each of the streams at the workshops will be invited to progress to the final which is to be held at the Royal Society on 11 December 2018. Finalists will have an opportunity to compete for a
*YES is organised jointly by The University of Nottingham's Haydn Green Institute for Innovation and Entrepreneurship (HGI), the Biotechnology and Biological Sciences Research Council (BBSRC), the Natural Environment Research Council (NERC) and the Medical Research Council (MRC).
http://www.yescompetitions.co.uk/